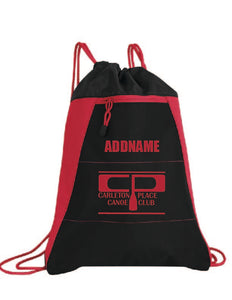 Carleton Place Canoe Club Cinch Bag
Regular price $13.00 Sale
The perfect bag for your regatta, cheering CPCC paddlers on or your practice essentials! Great spot to keep your sunscreen, water bottle, keys, sunglasses etc.
Cinch top opening with drawstring closure
Front zippered pocket
Bottom metal grommets
Accessory pocket
Option to add name
Dimensions: 17.75"h x 13.5"w
We accept credit card, cash and e-transfers. Contact us if you need to make arrangements for payment. If you have any questions feel free to reach out to us at level1customgear@gmail.com or by calling or texting 613-621-0206.